Are you still looking for a reliable and powerful software to perform geotechnical analysis? We get it. Geotechnical engineers are often under pressure to perform finite element or limit equilibrium analysis for geotechnical projects. A reliable and powerful geotechnical analysis program can be of great help and improves accuracy of the results.
That is why users trust Bentley's geotechnical software - PLAXIS provides an intuitive approach to analyzing and modeling a wide variety of geotechnical problems. They offer geotechnical engineers the most accepted methods of sound computation, trusted information, and ensures better calculations with meaningful results and higher accuracy. Let's take a look at the 6 reasons why engineers are using PLAXIS for their geotechnical projects.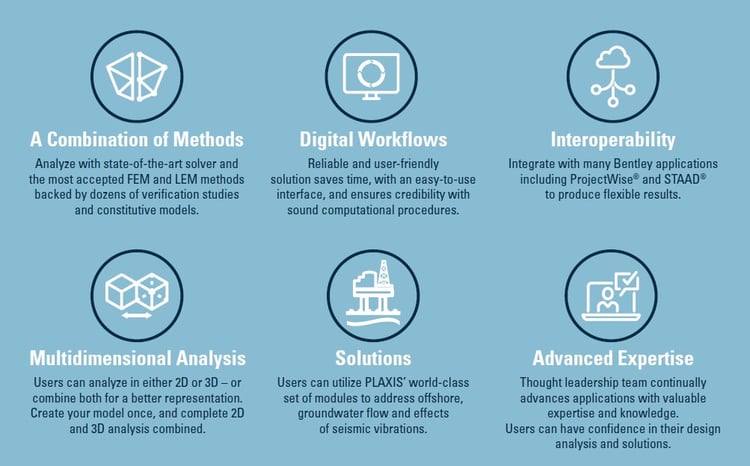 Reason 1: A Combination of Methods
With PLAXIS, you are able to analyze with state-of-the-art solver and the most accepted FEM and LEM methods backed by dozens of verification studies and constitutive models. With Bentley geotechnical software you can handle common and complex geotechnical analysis of soil or rock slopes using either the limit equilibrium method (LEM) or the finite element method (FEM). Three-dimensional LEM analysis allows you to solve directly for the safety factor of a trial slip surface, until you find the critical one.
For instance, PLAXIS includes many advanced material models besides standard models like the linear elastic – ideal plastic model with Mohr-Coulomb failure criterion. The advanced material models involve specific features such as stress-dependency of stiffness, strain-hardening / softening, memory of pre-consolidation, critical state, anisotropy, creep, swelling and shrinkage. With those advanced models, users are able to simulate the behaviour of soils and rocks more realistically and get more accurate results from their calculations.
Read our blogs to learn more about the material models in PLAXIS:
Reason 2: Digital Workflows
PLAXIS is developed with your geotechnical challenges in mind, so you will work confidently at each stage of your geotechnical analysis project.
1. Soil and Calibration
Geometry - Access a logical geotechnical workflow and user-friendly graphical user interface to facilitate fast and efficient model creation.
2. Analysis
Calculation - Calculate with confidence by accessing various trusted methods and provide realistic assessment of stresses, forces, and displacements in soil and structures.
3. Results
Output - Leverage powerful and versatile post-processing and display forces, displacements, stresses, and flow data in contour, vector, and iso-surface plots in various ways.
Reason 3: Solutions
Next to the basic 2D and 3D PLAXIS version, users can utilize PLAXIS' world-class set of modules to address offshore, groundwater flow, temperature effects and effects of seismic vibrations.
Modules Included In PLAXIS 3D Ultimate
PLAXIS 3D Dynamics: 3D Geotechnical Dynamic Modeling Software
PLAXIS 3D PlaxFlow: 3D Geotechnical Groundwater Flow Software
Modules Included In PLAXIS 2D Ultimate
PLAXIS 2D Dynamics: 2D Geotechnical Dynamic Modeling Software
PLAXIS 2D PlaxFlow: 2D Geotechnical Groundwater Flow Analysis Software
PLAXIS 2D Thermal: 2D Geotechnical Thermal Modeling Software
PLAXIS Monopile Designer – Monopile Design Tool for offshore monopile foundations
Reason 4: Advanced Expertise
Bentley's thought leadership team continually advances applications with valuable expertise and knowledge. You will find tons of tips and tricks, knowledge base and technical discussions at Bentley Communities. If you prefer tailored training and mentoring services, we have just that for you at Bentley's eCommerce store, Virtuosity. Check out this page to learn more about our Expert Service.
Here are some FREE OnDemand webinars and videos for you to learn Bentley's geotechnical analysis software.
PLAXIS video collection: Get access to new educational PLAXIS videos to explore the benefits and value of using PLAXIS.
Reason 5: Interoperability
PLAXIS can integrate with many Bentley applications including ProjectWise® and STAAD® to produce flexible results. Here is an example. Engineers can now design and analyze deep foundations and apply results post-processing and evaluate relevance for STAAD.Pro, thanks to the interoperability between STAAD.Pro and PLAXIS 3D through ISM technology.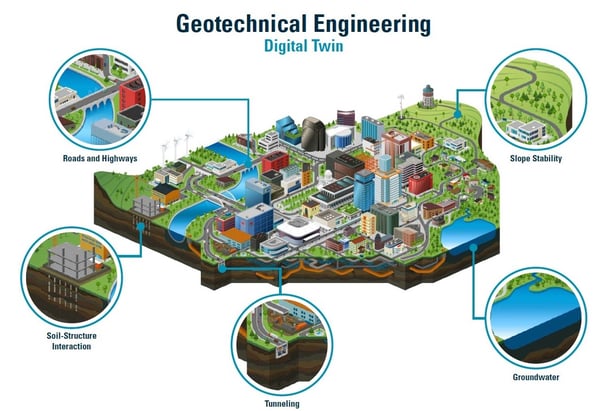 Reason 6: Multidimensional Analysis
With PLAXIS, you can perform analysis in either 2D or 3D – or combine both for a better representation. This way, you only need to create your model once, and complete 2D and 3D analysis combined. If you wish to convert a model from PLAXIS 2D to 3D, you can use the PLAXIS 2D to 3D Converter as it will to take the 2D model geometry as well as soil properties and convert it as an extruded model in PLAXIS 3D.
Source: Virtuosity
Categories
Finite Element / Finite Difference
Keywords
PLAXIS, PLAXIS3D, PLAXIS2D
Form
Looking for more information? Fill in the form and we will contact Bentley Systems for you. Alternatively, you can visit Bentley's website and speak with a Bentley Geotechnical Expert.