Located on Hong Kong Island, the Western Island Line is a fully underground railway that alleviates heavy traffic congestion in the western district. A USD 200 million Western Island Line contract involved constructing two single-track tunnels surrounded by existing infrastructure. Golder Associates (Hong Kong) Limited (GAHK) was consulted to help the contractors overcome the projects unprecedented geotechnical challenges. GAHK needed to meet the required special grouting protective measures beneath several buildings along the tunneling route.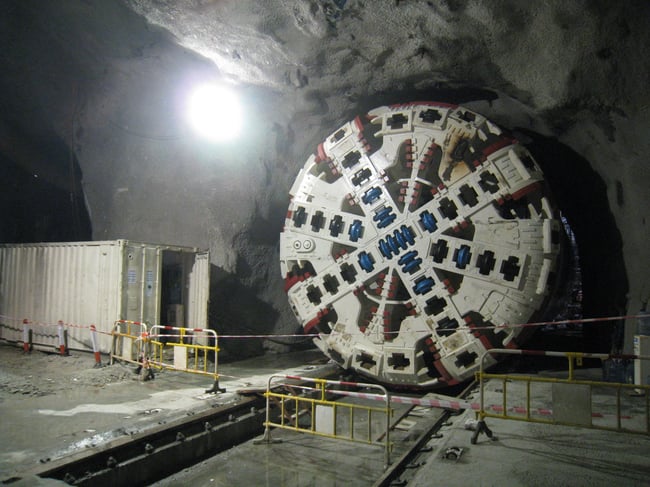 The Tunnel Dismantling Machine (TDM) was the first of its kind in the world and won the "Product or Equipment Innovation of the
Year award in New Civil Engineers International Tunneling Awards 2013.
GAHK provided geotechnical services for tunneling, dismantling, and excavating. The team implemented 3D finite element analysis, which was less common back in 2009 during the construction of the project. The 3D finite element modeling enabled the team to overcome limitations while considering the large number of individual piles and unique alignment of the tunnels. The team analyzed and modeled previously difficult or impossible situations, developing a real and rigorous 3D analysis of the soil-structure interaction.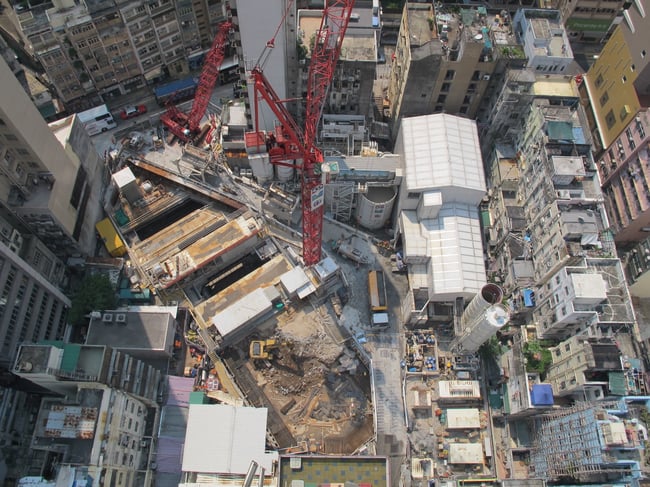 Golder had to consider that the alignment of the tunnels is at a skew angle to the orientation of the existing buildings.
Parametric modeling and analysis helped optimize design, saving time and costs while enhancing tunneling safety. Geotechnical engineering applications supported a solution that optimized the amount of required grouting protection works for the buildings and saved construction time by up to three months. This practice also saved 7,000 cubic meters of grout and concrete material, as well as 1,500 tons of carbon dioxide emissions. The 3D analysis helped avoid temporarily rerouting traffic to install grouting tubes in a highly congested area, saving up to 200,000 tons of carbon dioxide emissions. The more rigorous 3D analysis shows savings in less overdesign while still meeting all serviceability and factor of safety requirements. Now, 10 years later, GAHK plans to build upon the projects previous success by creating a digital twin for future tunneling projects from planning through construction to maintenance stage.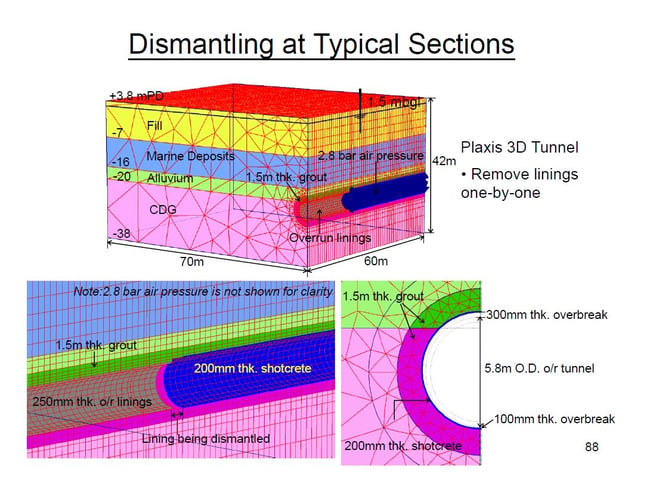 PLAXIS 3D was used to design for the shotcrete thickness and strength required for the incremental dismantling process involving time.

PLAXIS enabled the team to model and analyze the contractors design scheme during tendering, to design associated underground structures, and to perform construction simulation. MicroStation facilitated the production of construction drawings from 3D models. The project won numerous awards for technical excellence, which would not have been possible without PLAXIS geotechnical analysis for the projects tunneling, dismantling, and excavating works.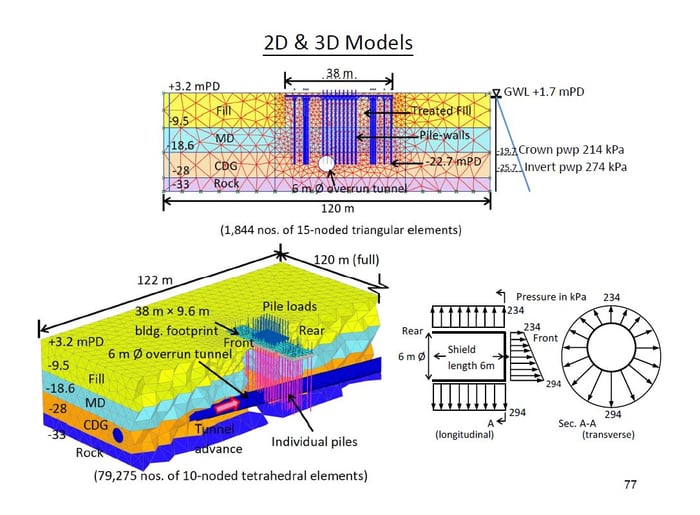 3D analysis helped predict the pile lateral displacement and settlement, as well as pile bending moment, axial force, and shear force.
Source: Virtuosity
Categories
Finite Element / Finite Difference, Tunneling in Rock, Tunneling in Soils, Jacked Tunnels
Keywords
PLAXIS, PLAXIS3D, Tunnels
Form
Looking for more information? Fill in the form and we will contact Bentley Systems for you. Alternatively, you can visit Bentley's website and speak with a Bentley Geotechnical Expert.